Mariah Parker's Indo Latin Jazz Ensemble in Concert
•142 Throckmorton Theatre, Mill Valley, CA, October 28, 7 PM
Private Lessons with Matthew Montfort

•Fun Lessons for All Styles/Ages/Levels with One of the World's 100 Greatest Acoustic Guitarists
---
Mariah Parker's Indo Latin Jazz Ensemble in Concert
142 Throckmorton Theatre, Mill Valley, CA, October 28, 7 PM
Featuring Mariah Parker (composer, piano, santur), Matthew Montfort (scalloped fretboard guitar), Paul McCandless (woodwinds, horns), Ian Dogole (global percussion), Brian Rice (Latin percussion), Kash Killion (bass, cello, bolong), and special guest Dana Rath (mandolin)
Sunday, October 28, 7 PM
142 Throckmorton Theatre
142 Throckmorton Avenue, Mill Valley, CA.

Tickets:
$20 general advance, $25 general day of performance, $30 reserved seating.
Info: (415) 383-9600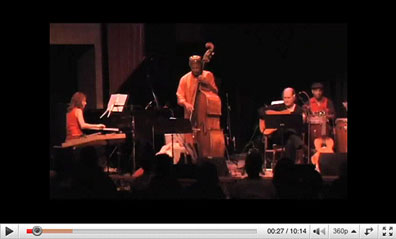 Video
of Mariah Parker's Indo Latin Jazz Ensemble
"Parker and friends blend the rhythmic syncopations of Latin jazz music with the entrancing, asymmetrical meters of East Indian rhythms resulting in first-class world music."
— LATIN BEAT MAGAZINE
"Spicy tantalizing flamenco melodies cross pollinate with East Indian rhythms."
— MAXIMUM INK MUSIC MAGAZINE
"Your concert was wonderful last night! The whole band was impressive and unified, your beautiful music obviously inspiring the expressiveness of each contributor. Your work says a lot about your artistry, creative perspective, genuine personality, and soul."
— KARLTON HESTER (Director of Jazz Studies at UCSC)
"Mariah Parker's Indo Latin Jazz Ensemble creates voodoo... when I saw them live at Kuumbwa Jazz Cafe they were purely raw and fearless."
— JOHN SHELTON IVANY, TOP 21 (former editor of Hit Parader)
---
Private Lessons with Matthew Montfort
Fun Lessons for All Styles/Ages/Levels with One of the World's 100 Greatest Acoustic Guitarists




Recently recognized as one of the world's
100 Greatest Acoustic Guitarists
, Matthew Montfort teaches all styles of guitar along with music theory and repertoire for all instruments. He helps students reach their own personal goals in music, whatever they may be, through a lesson plan customized to the student's needs. He offers private guitar lessons, music tutorials, and classes in the San Francisco Bay Area and online via
Skype
.
Free Introductory Half Hour Lesson (Limited Time Offer in San Rafael, Marin, California)
Interactive Lessons Via Skype
37 Years Teaching
Patient
Theory for All Instruments
Technique
Improvisation for All Instruments
Rhythm Classes for All Instruments
Reading Music
All Levels
Children Age 5 Up
Rock
Jazz
Folk
Classical Guitar
Flamenco Guitar
Bass Guitar
Ukulele
World Music
Student Recitals
Montfort was interviewed in the December 2009 Les Paul issue of
GUITAR PLAYER MAGAZINE
about his pioneering guitar work and his application of the rules of Indian raga to the music of Jimi Hendrix as exemplified by 'Purple Raga' from his debut solo recording,
Seven Serenades for Scalloped Fretboard Guitar.
He is also known for his work on the Glissentar 11 string fretless guitar, electric guitar, flamenco guitar, classical guitar, bass guitar, sitar, charango, mandolin, gamelan, and as leader of the popular world music group Ancient Future. He has performed worldwide, from the Festival Internacional de la Guitarra on the golden coast of Spain to the Festival of India in Mumbai, and on national radio and TV shows such as the Echoes Living Room Concerts on Public Radio International and the
Rachel Maddow Show
on MSNBC.
Montfort wrote the book
Ancient Traditions – Future Possibilities: Rhythmic Training Through the Traditions of Africa, Bali, and India,
which has been used by many musicians to improve their rhythm skills. Workshops, private lessons, and online Skype tutorials covering this material are available as well. For a limited time, a discount is offered on a
Skype
tutorial with a book purchase through
Ancient-Future.Com
!
info@ancient-future.com
or call 415-459-1892.
Sympathetic Serenade for Scalloped Fretboard Guitar by Matthew Montfort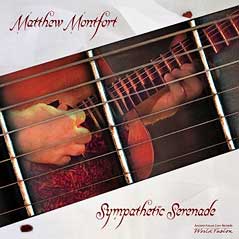 Sympathetic Serenade for Scalloped Fretboard Guitar
by Matthew Montfort.
Ancient-Future.Com EP AF-2012.
iTunes
.
>audio
(Excerpt)
Matthew Montfort
was added to the 100 Greatest Acoustic Guitarists List partly in response to the release of his new EP. When Montfort was working on his 2009 debut solo recording for scalloped fretboard guitar, he recorded a number of spontaneously improvised serenades. Were it not for some serendipitous sequencing coupled with the allure of alliteration, it's likely that 'Sympathetic Serenade' would have been released as the eighth improvisation on what became
Seven Serenades for Scalloped Fretboard Guitar
. Instead, this evocative Spanish serenade/raga hybrid receives a mini EP treatment on Matthew Montfort's
Sympathetic Serenade for Scalloped Fretboard Guitar
. The nearly 11 minute long track is now available as a download complete with nine pages of digital liner notes at digital retailers such as iTunes, and as a signed CD-R exclusively at
Ancient-Future.Com
.